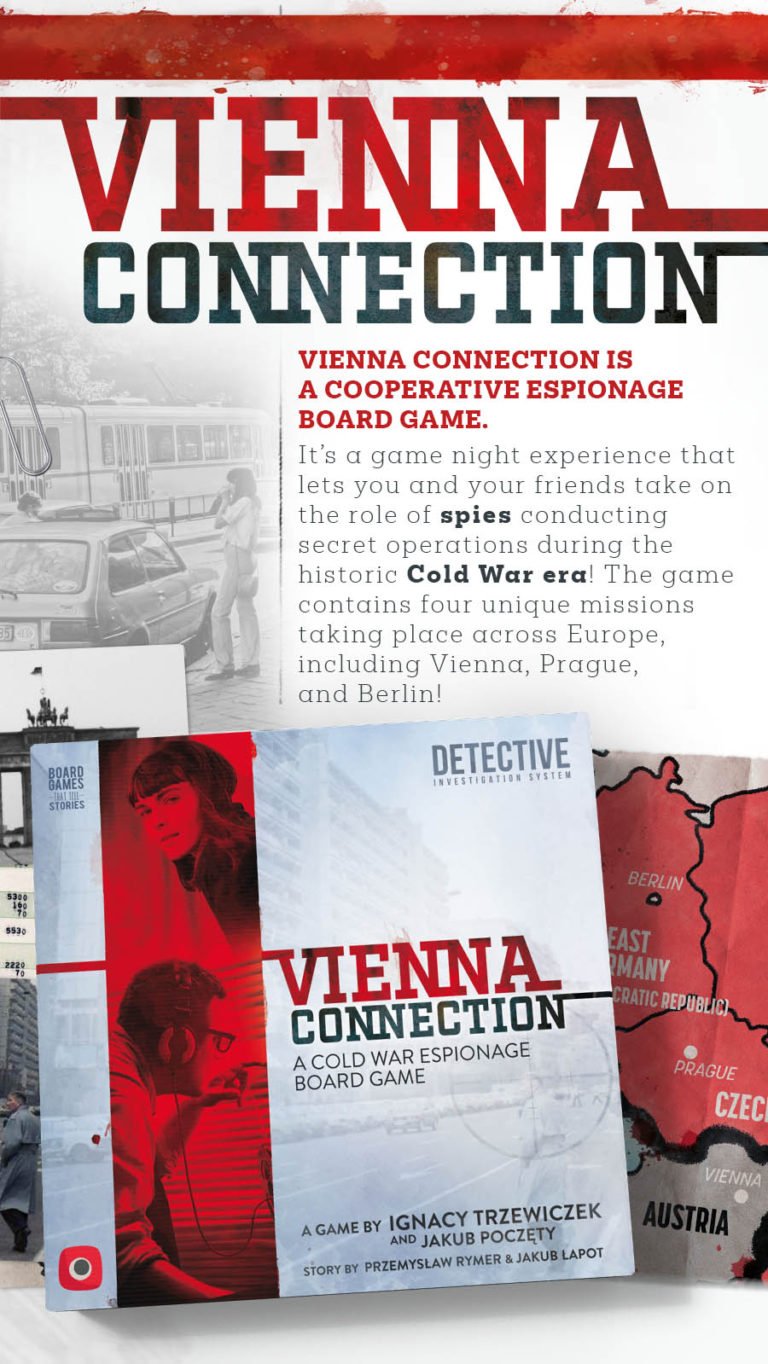 In this story-driven game for 1-5 players, you command a team of CIA agents during the Cold War conducting secret missions in various European cities. It's January 1977. CIA Headquarters in Langley, Virginia gets wind of Soviet activity in Austria and has no choice but to intervene. The CIA decides to dispatch members of their Special Activities Division (SAD). The game is on.
If you're looking for a spy game, and would love to outthink and defeat Soviet agent's activities—Vienna Connection is the game for you.


Vienna Connection is a perfect choice for you if you like story-driven games with immersive narration and engaging plot. It's a fascinating story inspired by true events from 1970s  Europe. The plot, designed by Przemysław Rymer, could easily be used as a script for a top-rated TV mini-series on Netflix or HBO. The four missions presented in the box form a single epic story—so if you like TV shows like True Detective, The Outsider, or Mosaic, this might be right up to your alley!
Vienna Connection is a game night experience. It's not a single session eurogame that you play any day with any group. Instead, this is an entire game night adventure, with clues, leads, and red herrings. It's the kind of game that you debate and discuss hours after finishing. It involves deciphering messages and analysing various reports and documents for evidence. If you love brainstorming with your friends, debating and discussing different theories and solutions—this is the game for you!
Vienna Connection is the first true spy game. If you like this genre of movies and novels, you can finally play a game about being a spy. There's no game like it. You run secret operations, intercept Soviet reports, decode messages from the CIA—you do all things you've seen in movies. It is a true spy game!

Vienna Connection is a story-driven game. It doesn't offer many challenges to eurogamers, nor a chance to master a specific strategy to improve the way you can win. It is a story experience—like being part of an interactive TV show. If you're looking for deep strategic challenges in gaming, you might not find them here.
Vienna Connection is a campaign game consisting of 4 missions. It shines when played as a complete experience. Separate game sessions are less interesting if you don't know, or don't experience the whole story. If you feel like you can't dedicate 4 game nights to play the entire game, you might consider passing on this preorder.
The game is heavily language-dependent. You will read a ton of cards, reports, and files. It's a full-blown narrative experience. The box comes with 100 pages of different files and documents! Please, consider waiting for a local edition of the game if you and your group are not fluent English speakers.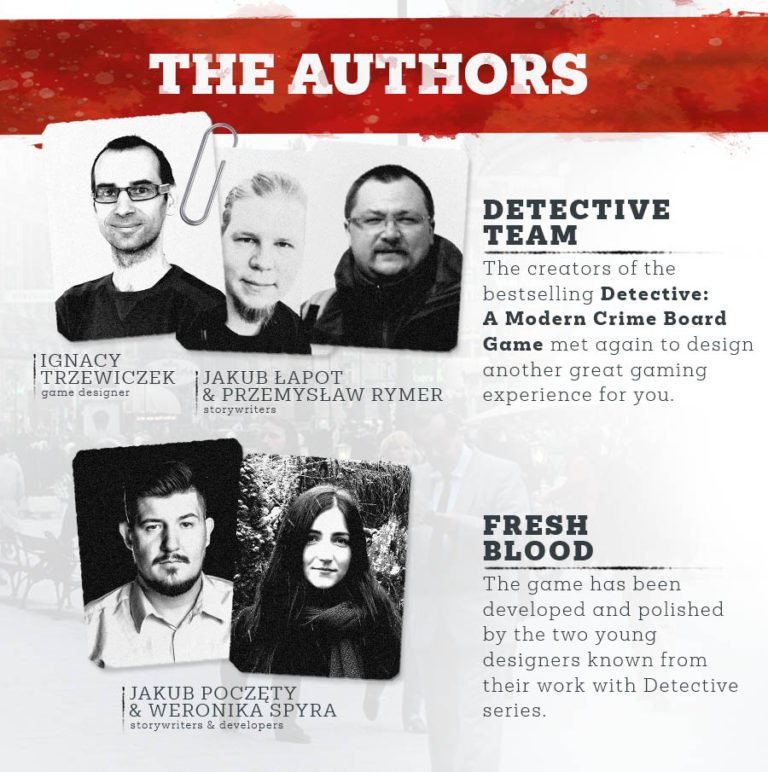 Will the bonuses be available in the future?
If we have any of the bonus content left over from the preorders, they will be available through our webstore as a separate purchase.
Can this game be played many times?
We have provided components to play each Mission up to two times. But since this is a story-driven game, we believe that playing it for the third time is unlikely.
How long does it take to finish the full campaign?
The game comes with four missions that make up the campaign, each is about 3 hours long. Depending on your style of playing and the dynamics of your group, it takes about 12-15 hours to finish the whole game.
How similar is it to Detective?
The Vienna Connection game mechanisms were inspired by the award-winning Detective: A Modern Crime Board Game, but many new mechanisms have been added to create a brand new experience with features recreating espionage during the Cold War era. The same as Detective, players work cooperatively as a group, are given a task, follow leads in order to solve the mystery, and to answer questions at the end of the game. Vienna Connection also uses the Antares website, giving players access to special files (like audio files from intercepted transmissions) and allowing them to finish the game by submitting a Final report.